header{background-color: #ffffff;}
IMPROVE PRODUCT QUALITY BY LOCAL MOISTURE PROFILING
We have implemented our solution for the production of gypsum boards (drywall, plasterboard, wallboard), helping to improve the moisture profile or remove wet edges, helping to boost the quality of the end product and the handling of the gypsum boards.
Thanks to their extreme compactness, our electrical infrared systems MonoCassettes™ or EdgeMaster™ (high power density electrical modules) can easily fit in an existing production line and only require a small space.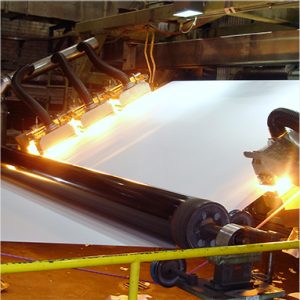 Such solutions will improve quality and production capacity (very quick return on investment) by avoiding bad adherence of the glued paper layer and unplanned stop of the machine when the troubles are too important.
Our team can help you to size and design these efficient electrical infrared solutions for moisture reduction (peak killing) and smoothing before gluing application.
Compared to the blue flame burner, a technology widely used today, our electrical infrared systems are safer (reduction of risks of fire and no production of combustion flue gases released in the environment) and easy to control.
Contact us:
EdgeMaster™
---
DryMaster™
---
MonoCassette™
---
MasterCassette™
.footer{background-color: #fcfcfc;}