header{background-color: #ffffff;}
UniDryer®
The Ircon-Solaronics UniDryer® is a combined gas infrared and air drying system in which high drying performance gas infrared emitters are alternated with high temperature and velocity nozzles. The UniDryer® system benefits from a very high flexibility for the best product quality.
The gas infrared emitters are taking care of energy transfer by infrared radiation to the surface to be dried.
Thanks to their proven very long lifetime, machine uptime is optimized and the maintenance costs are reduced.
The convective part of the dryer, built in with state of the art flotation nozzles, handles the mass transfer by blowing hot air coming from the emitter's flue gases. Thanks to improved convection of the system, no heat exchanger or external gas burner are required.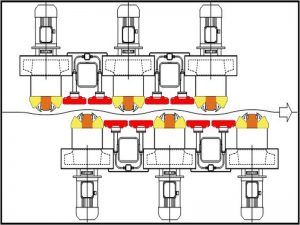 .footer{background-color: #fcfcfc;}