header{background-color: #ffffff;}
Quality
We have always put a high priority on the quality of our products and on centralizing the customer into our processes. We have been ISO certified since more than 20 years and currently certified ISO 9001:2015 (audit by Lloyd's Register).
Ircon-Solaronics engineering is carried out in accordance with the EN & ISO standards and IEC recommendations, Customer standards are applied if available and approved when signing the contract.
Ircon-Solaronics issues a declaration of incorporation for the incomplete machine pursuant to the Machine Directive 2006/42/EC Appendix II 1.B. The requirements of the accident prevention regulation are complied with, as far as it is contained in our scope of delivery.
The End user shall provide an EC declaration of conformity on the complete system in which the Ircon Solaronics system is incorporated.
All our products are pre-assembled and factory tested (FAT) in our workshops before packaging and shipment to site. Also, the quality of all our sourced parts has to endure strict control assessments.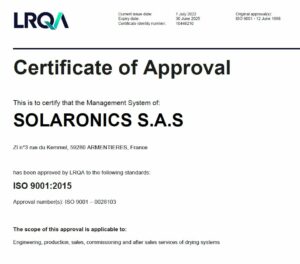 .footer{background-color: #fcfcfc;}